FanDuel Sportsbook has handed out some big payouts over the last two weekends. The winnings are the result of some very strong parlay picking.
One customer placed a $200 "historic parlay" and walked away with $229,276.50. So, how did it happen?
This one happened on Monday, Nov. 25, and included the moneyline on one NFL contest, and combining NBA and NHL games.
Here is a breakdown of the bet: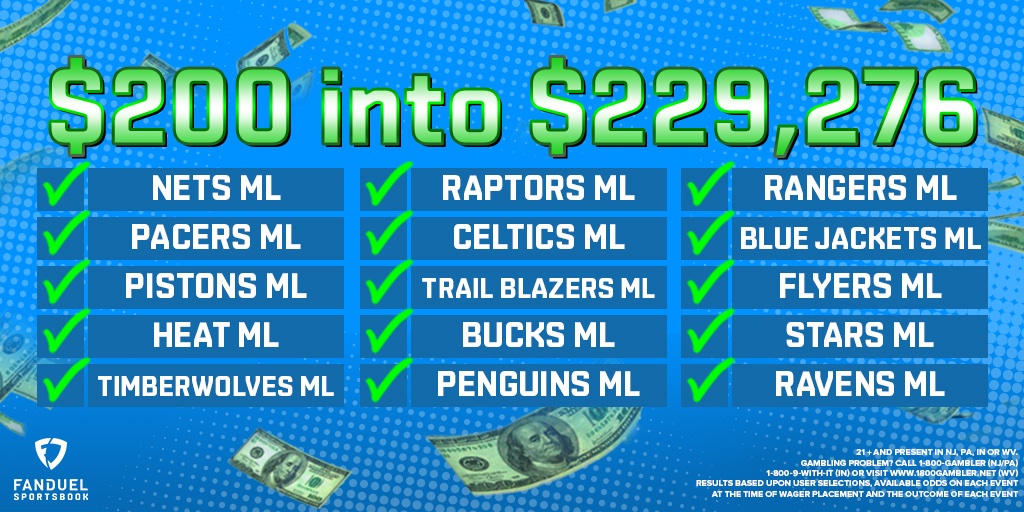 Turning $1 parlay into $10,000 at FanDuel NJ
But wait, there is more.
Another FanDuel Sportsbook customer made the most of a $1 NFL parlay on Sunday. And, by the most, we mean finishing with a perfect card. Here it is:
One customer picked the winners of all 12 NFL games yesterday to turn a $1 parlay into $10,128 🤯.

✅ Chiefs ML
✅ Dolphins ML
✅ Ravens ML
✅ Buccaneers ML
✅ Titans ML
✅ Redskins ML
✅ Rams ML
✅ Broncos ML
✅ Texans ML
✅ Packers ML
✅ Bengals ML
✅ Steelers ML pic.twitter.com/LgI4eUNoh2

— FanDuel Sportsbook (@FDSportsbook) December 2, 2019
Yes, there were a few upsets.
For instance, the Philadelphia Eagles were a 10-point road favorite against the Miami Dolphins. But it was the home team that walked away 37-31 winners.
Even punter Matt Haack threw a touchdown pass to the kicker Jason Sanders. Talk about things going the Dolphins way.
Plus, the previously winless Cincinnati Bengals pulled off a convincing 22-6 victory over the New York Jets.
The Houston Texans handed the New England Patriots their second loss of the season likely surprised some. The home team won 28-22 and had 21-9 advantage heading into the fourth quarter.
New Players get $150 in Bonus Bets with $5 Bet at FanDuel Sportsbook
Bet $5 Get $150 in Bonus Bets Guaranteed!
Available on Desktop, Android & iOS  

To Claim: Click Play Now

Monday Night Football parlay
Another NJ sports betting fan made out extremely well with Monday night's game between the Minnesota Vikings and Seattle Seahawks. 
This individual placed $500 on the Same Game Parlay bet slip that included:
Over 48.5 (+121)
Seahawks moneyline (-112)
Dalvin Cook touchdown score (+580)
The two teams combined for 67 points and the Seahawks won the game 37-30.
Plus, Cook scored the game's first touchdown on a two-yard run. The running back ended up leaving the game midway through the third quarter with a shoulder injury.
Total these results and the customer got paid $14,249.